Paycom Software Inc. is an online payroll, talent acquisition, time and labor management, talent management and HR management company. It provides a multitude of services covering these areas.
If you're an employee of one of the companies which bought Paycom online services for its employees then you can use access these services by clicking on Login button in the top left corner of Paycom.com home page. In a popup menu which will open you need to select "Employee" to navigate to Paycom Employee Self-Service portal. This will redirect you to a Paycom Employee Self-Service portal login page located on paycomonline.net domain.
Paycom Employee Self-Service Portal SSL certificate for paycomonline.net
In order to prevent phishing attacks and avoid identity theft, make sure that you are accessing Paycom Employee Self-Service portal and not the other site. Avoid clicking URLs in your e-mail or on web pages. It is typically much safer to type URL yourself into browser address bar. If you're not sure if the site that you navigated to is Paycom Employee Self-Service portal hosted on paycomonline.net, you can check its SSL certificate and verify with the one that we got below. By verifying SSL certificate you can avoid a significant number of phishing attacks (though not 100%).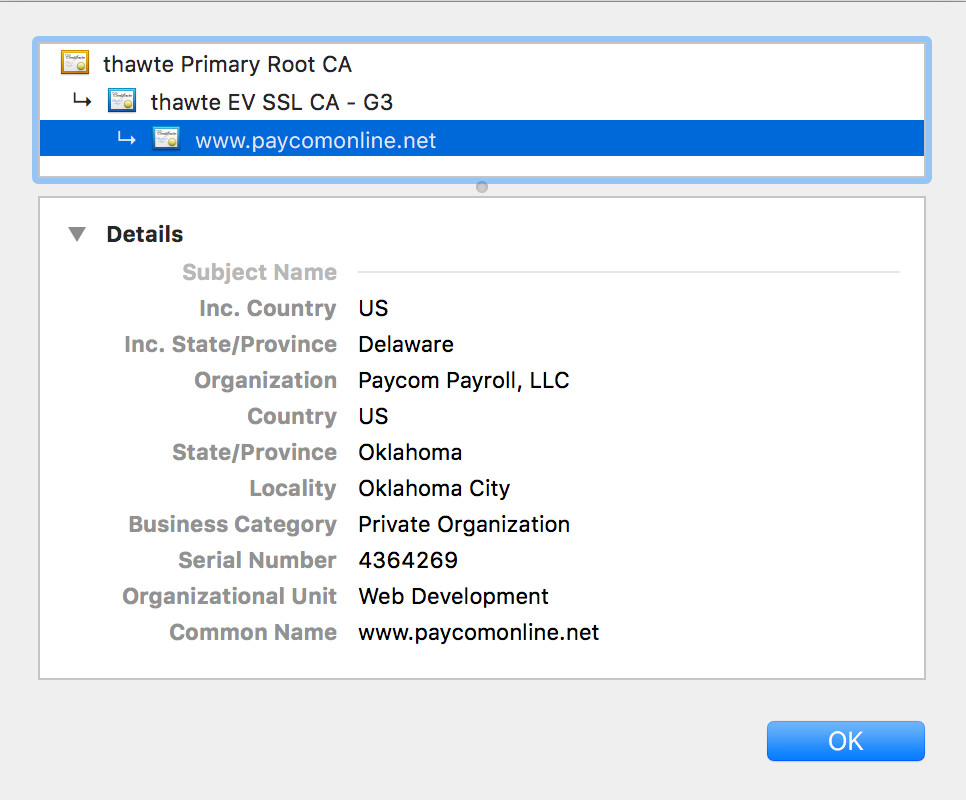 As part of Paycom's effort to prevent phishing attacks, they deliver the following message to their Paycom Self-Service users
Paycom will never ask you to submit or change your account information through email.
Paycom personnel will never ask you for your password.
Paycom will never ask you to log in to their site through email.
Problems during Paycom login
If you don't remember your Paycom password details, you can click on "Forgot password" link on Paycom login page. You will be guided through password reset process.
If you have other problems with your Paycom Employee login, you can call on 800-580-4505, Paycom support phone.
Paycom contact information
Official website: Paycom.com or Paycomonline.com
Mailing address: 7501 W Memorial Rd, Oklahoma City, OK 73142
Phone numbers: 800-580-4505, 405-722-6900